Discover Deep Wellness Group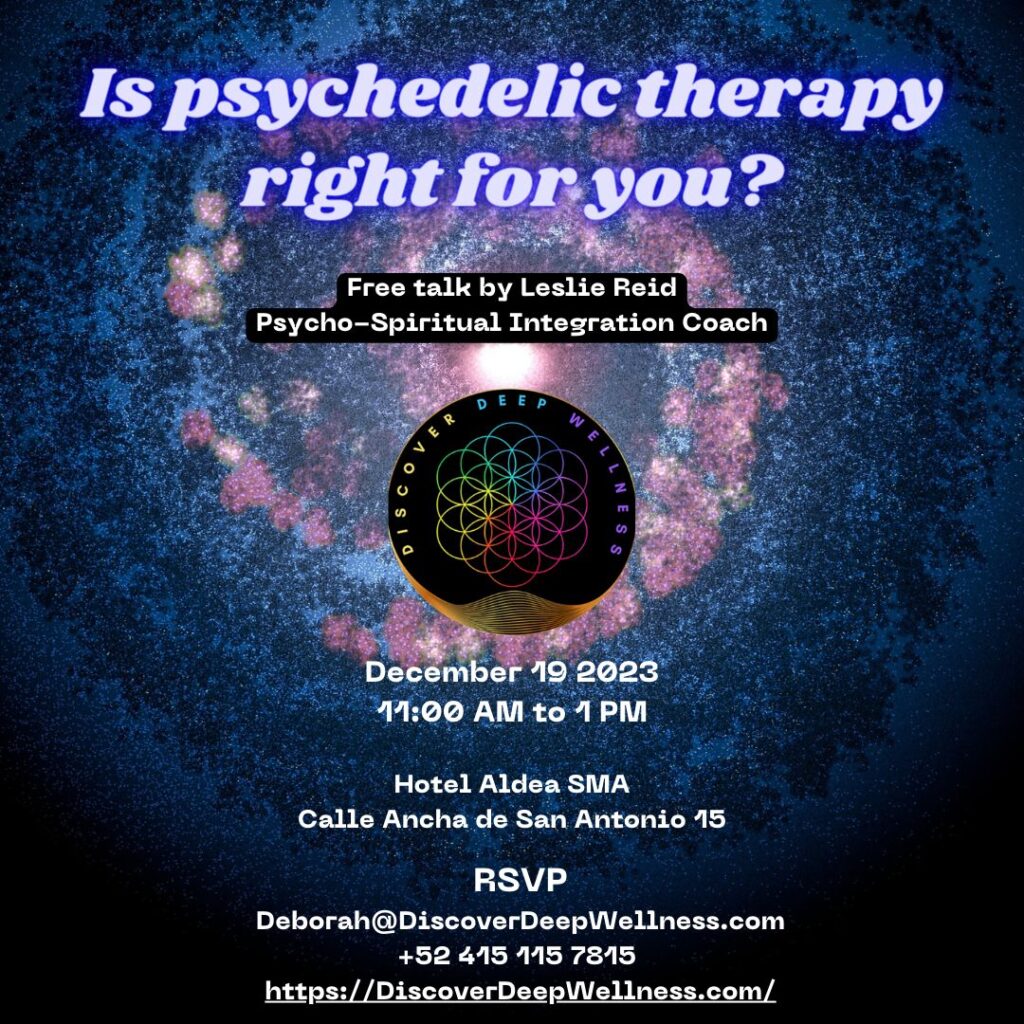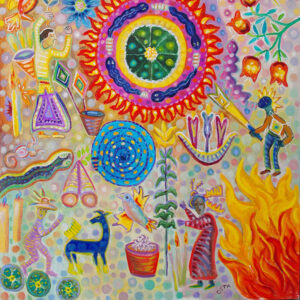 Leslie Reed and Deborah Bickel are working together in a new therapeutic healing practice, Discover Deep Wellness. Our approach to treatment is informed by plant based "medicines" and other similar chemically produced substances defined as psychedelics and or empathogens. These medications offer new approaches to depression and anxiety , PTSD , some complex pain syndromes as well as a potential for deep resolution of the complex fear based dread of death in those facing end of life issues. The evidence of other uses and benefits of these "novel" substances continues to grow along with their reputation for a remarkable safety profile when used appropriately especially when used in combination with therapy aimed at integrating insights gained during treatment.   .
There is a long standing and growing interest in psilocybin in particular as a therapeutic option for depression, anxiety and especially the many varieties of post-traumatic stress syndrome that haunt many of us. San Miguel like many cities in the industrialized north have a growing number of people interested in exploring the "new" and in some cases very old  therapies clearly more robust in their impact on mood related disorders than the standard drugs long in use particularly for depression and PTSD. 
Media sources ranging from social, conventional  to highly technical reviews are reporting on the surprisingly robust effect of several substances known for impacting the brain in entirely "novel "ways when compared to traditional psychopharmaceuticals. These substances like naturally occurring psilocybin are classified as either psychedelics or empathogen or entactogens. They all report increased brain connectivity not just while taking these drugs but in some cases for months post treatment. These changes are not seen with conventional drugs for depression.  Many studies also demonstrate the safety of combining the new therapies with the standard medications used to treat depression and anxiety. Some of these "new" drugs are strictly that: manufactured drugs and depending on the source they are  predictable and safe. 
About Us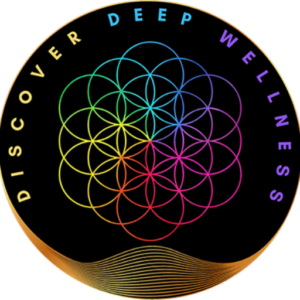 Leslie Reed has a background as a Professional Business and Career Coach trained in the Sherpa Coaching Method at the University of Georgia. This executive level coaching method is  used throughout major industries, most notably at Toyota. She brings a strong history of visionary leadership and managerial coaching in fields ranging from telecommunication, mortgage banking, software development, to bio-technical industries. 
A trusted advisor to a wide variety of industry leaders she has successfully helped them inspire their teams  toward greater impact and success at a companywide level. 
Leslie has held leadership roles with Fortune 500 firms to small and start-ups organizations, including Cox Communications, Charter, Communications, Fannie Mae Software Systems, KnowledgeWare, Inc., and Temple-Inland Mortgage. As an entrepreneur, Leslie formed her first company in 1993 and went on to form  4 more. As a leader and CEO she has the rare competencies essential to helping  others identify and overcome obstacles to realizing a "personal best" in their careers.
In 2015 Leslie discovered the power of psychedelic medicines for the relief of her husband's cluster headaches and began a journey of curiosity and wonder into the field of these medicines and the deep healing that results from their judicious and intentional application. 
In 2017 Leslie received her certification in Psycho-Spiritual Integration from Being True to You, an organization with a distinguished reputation in the field of Transformational Recovery and Integration Coaching. Her current work in Psycho-Spiritual Integration with people who use plant medicines for healing and spiritual expansion is deeply informed by her own study and spiritual practice since 1976. Characterized  by meditation and mindfulness ,  it is founded in the study and practice of the principles of non-duality.
Leslie's passion is to help individuals discover their profound authenticity that opens them to fresh ways of experiencing a greater level of insight, focus, joy, and love. 
Deborah Bickel has lived in San Miguel for seven years. She is an international health worker, graduate of the Stanford University Physician Assistant program and has a Master's degree in Public Health from the University of California at Berkeley. She was a clinician in a busy inner-city clinic for nine years while teaching medicine at Stanford. She also did post graduate work in nutrition at the Tropical Institute in Amsterdam. She has lived and worked in many countries including the United States, the Netherlands, Mexico, Guatemala, Cuba, Nicaragua, Zambia and Mozambique. She is fluent in Spanish and has practiced medicine in the United States, Mexico and Guatemala. 
She has a particular interest in plant-based medicine, geriatrics and helping people choose the highest quality of living even when that may mean shortening our span of years but vastly improving our experiences moment by moment. 
Our Approach
Terrence McKenna once suggested that "during a psychedelic experience a dialogue opens up between the ego and the larger psyche."
Such a dialogue would allow a person an opportunity to conduct unbiased therapy with themselves. They have nothing to hide behind, no defenses, no outs, no lies, just them and truth. Under the medicines everything is exaggerated for easier interpretation and understanding of things; a person can better observe the perceptions, worldviews, voices, beliefs, thoughts, judgments, stories and emotional patterns that run their daily life.
The medicines used by DDW are combined with "Integrative therapy" which draws on techniques from different types of therapy to tailor an approach specifically for you The integrative approach may include elements of person-centred therapy. An integrative counsellor believes there isn't just one therapeutic approach that can help a client in all situations. Instead, they take into account you as an individual and your circumstances, and use elements of different approaches to help you explore and cope with your problems. 
At its best, integrative therapy fosters mindfulness drawing on insights discovered through psychedelic experiences as well as deep meditation practices. These insights are brought into "real life." Integrative work guides you and holds you accountable for the changes you set out to make. The psychedelic experience itself invites deep healing and an evolutionary opportunity that lasts for many weeks following the experience itself. 
Testimonials
Traditional talk therapy helped me to live with my issues concerning anxiety and PTSD….but working with Leslie Reed has open a new door for me. The combination of plant medicines, and serious, counseling has helped me to finally heal from my issues, and to live the happy, fulfilled life I have always dreamed of. I cannot recommend Leslie enough, and am grateful every day that I have been lucky enough to find her.
I've suffered with depression and cptsd for decades. I was on an antidepressant and Xanax for well over 20 years. They were no longer effective in treating my depression and anxiety. This left me with very few options. I was tired of medication. I connected with Les Reed and she was essentially my last hope. I started with ketamine integration and it changed and benefited my life. I finally feel human again. The numbness is gone. I've been able to get off both my antidepressants and Xanax for well over 3 years. My life has gotten better and better. I only wish I had met Les and started work with her sooner.
Contact
For more information please contact Leslie Reed by phone at +1 (404) 580-6950 or using the form below.
Pricing
Our pricing is very reasonable and among the lowest you will find in Mexico. Ketamine sessions start at 3000 pesos or USD equivalent. Psilocybin at 6000 pesos. MMDA at 8000 pesos. Integration sessions are 1000 pesos an hour.
Our Blog
.
Disclaimer
The Psychedelic Integration Coach, Discovering Deep Wellness and its associates, and any information offered in consultations/sessions do not in any way encourage or condone the use, purchase, sale or transfer of any illegal substances, nor do they encourage or condone partaking in any unlawful activities. Psychedelic Integration Coaching supports a harm reduction approach for the purpose of education and promoting individual and public safety. If you are choosing to use psychedelic substances, please do so responsibly.